I love my Amazon wishlist, I add things to it from all over the web and I rely on it to remember things for Archie's birthday and Christmas as I see them throughout the year. I even have a secret wishlist with gift ideas for others! So I thought I'd share with you a few things on my wishlist at the moment...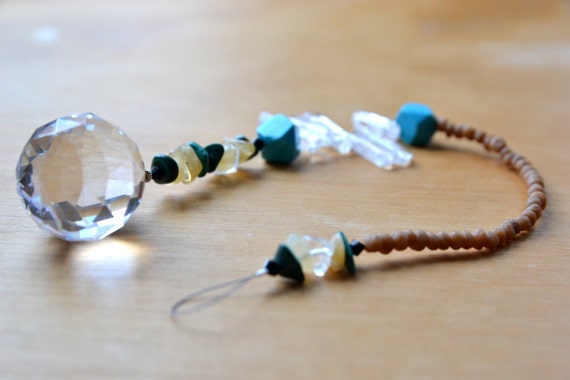 A lovely handmade rainbow maker, £14.32, by
claudiacgmiami
on Etsy - so pretty! Claudia is someone I discovered through the How Does Your Garden Grow? linky and then followed on Instagram. Her blog is dreamy and she makes these beautiful hanging charms to brighten up every day with 'rainbow hour'. I'd love one for our home!
Fragrance No.38 by
Eden Perfumes
of Brighton. This number has similar tones to Very Irresistible by Givenchi which is one of my old favourites, but Eden Perfumes are vegan and cruelty free - and an absolute bargain at £15.00! I bought Nick No.149 for his birthday which is similar to Chanel Bleu and smells great so I'd like to gradually replace my perfumes with Eden versions too.
Love at First Stitch: Demystifying Dressmaking by Tilly Walnes. Ok, I accept this book won't really teach me to sew my own clothes BUT a girl can dream and it'll probably teach me a thing or two until I can get to a dressmaking class in the summer!
On the subject of dresses, I love this checked number from
Lindy Bop
, one of my favourite clothes shops. It's on sale at the mo, too for just £20.99 - so I should probably hurry up and buy it!
The last thing I'll share is something else for the home, this set of mugs from
Island Homewares
. I love their boho design and although I have a squillion mugs there's always room for more, right?! :-)
What's on your wishlist?
Amy x